Volunteer Examiner (VE)
VEs are General or Extra Class amateur radio operators at least 18 years of age who have never had a license suspended or revoked and undergo additional certification to prepare and administer FCC license examinations.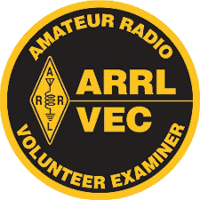 Frank Overstreet is accredited by the Amateur Radio Relay League (ARRL) as a VE.
Candidates for amateur licenses used to travel to a designated FCC facility to take the licensing exam. Originally, anyone wishing to become licensed had to travel to an FCC facility in Washington, DC.
As interest in amateur radio increased, The travel requirement became seen as a needless obstacle and the FCC adopted a self regulating policy.
As part of this self regulating policy, the FCC established Volunteer Examiner Coordinators (VECs). A VEC is an organization that coordinates the efforts of VEs in preparing and administering amateur service operator license examinations.
VE Questionaire
Part of becoming a VE is to fill out the VE Questionaire. The VE Questionaire Questionaire is essentially an open book exam covering rules for exam eligibility, exam administration, grading, dispute resolution, document retention and forwarding of exam results to the FCC.
For more information on becoming a VE, visit the ARRL page here.