Nortel Option 11 PBX
Part of the Meridian family of PBX's, the Nortel Option 11 PBX is a compact 60 - 800 line switch positioned for medium size businesses.
The Option-11 supported all features and scalability expected of a modern PBX including computer telephony integration, call center applications, messaging, attendant and more recently, VoIP. Configurable as a standalone main system, or seamlessly networked for multi-site support. Each Option 11 supported what I recall were 4 NI2 PRI cards.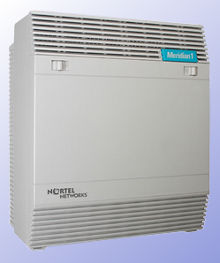 Nortel's 60-800 line wall mounted Option 11 PBX.
Part of the cost effectiveness of the Option-11 was it's small footprint, or what might better be termed it's backprint. Wall mountable and low profile, the Option-11 could mount on a wall with plenty of space underneath for shelves, desks, storage, etc beneath it.
Commercial real estate leases are typically priced per square foot. In areas where commercial real estate is expensive, this reduced footprint cost savings of the Option-11 became an important purchase consideration. By taking up less square footage, the Option-11 saved it's owner money.
That the Option-11's boards were compatible across the Meridian family also served to keep costs down. The large installed base allowed Nortel to achieve economies of scale which further drove costs down.
Learn more about what I did on the Option-11 by reading the article Test DataBase Productized under the Nortel PBX heading on the left sidebar of this page.