GSM
The global system for mobile communications (GSM) is the dominant 2G - 2.5G technology for cellular communication in the world. GSM traces it's origins to a Conference of European Posts and Telegraphs (CEPT) study group called the Groupe Spécial Mobile (GSM) formed in 1982 to study and develop a pan-European public land mobile system.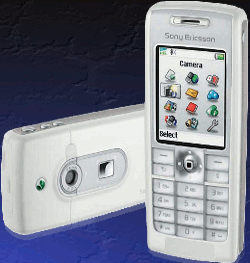 Sony-Ericsson T630 GSM cellphone with color screen, camera, GPRS, Java and a WAP browser, a 2.5G cellular phone.
The architects of GSM could have opted for a proven system like AMPS in the United States or TACS in the United Kingdom and parts of Asia but instead took a chance and selected an unproven digital system.
They had faith that advancements in compression algorithms and digital signal processors would allow the fulfillment of the original criteria and the continual improvement of the system. Their risk has been rewarded many times over.
GSM operates in the 900 MHz and 1.8 GHz bands in Europe and the 1.9 GHz and 850 MHz bands in the US. The 850 MHz band is also used for GSM and 3G in Australia, Canada and many South American countries.
By having harmonised spectrum across most of the globe, GSM's international roaming capability allows users to access the same services when travelling abroad as at home. This gives consumers seamless and same number connectivity in more than 218 countries.
Terrestrial GSM networks now cover more than 80% of the world's population. GSM satellite roaming has also extended service access to areas where terrestrial coverage is not available.
GSM is a TDMA based channel access method with an added wrinkle of frequency hopping and wideband transmission to reduce interference.
The modulation used by GSM is Gaussian minimum-shift keying (GMSK), a form of continuous-phase frequency shift keying. In GMSK, the signal to be modulated onto the carrier is first smoothed with a Gaussian low-pass filter prior to being fed to a frequency modulator. This has the advantage of reducing sideband power, which in turn reduces out-of-band interference between signal carriers in adjacent frequency channels.
3G
GSM is a 2G technology and will over time be phased out by the 3G technology WCDMA