Nortel DMS 10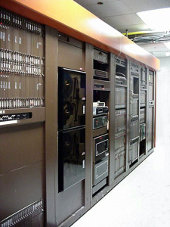 Nortel DMS 10.
Nortel's DMS 10 is a small central office switch targeted at the rural market in North America and enjoys considerable success worldwide. The DMS 10 doesn't always have every bell and whistle of it's big brother the DMS 100 but it doesn't need to and that helps maintain its cost effectiveness.
In rural, emerging and suburban markets, when a DMS 10 goes head to head with a remote switching center from a DMS 100, the DMS 10 wins the competition often enough that Nortel was never able to successfully cancel the DMS 10 in favor of DMS 100 based solutions.
Originally designed in the early 1970's when it was programed with paper punch cards and programs were stored in magnetic core memory, The DMS 10 has proven itself to have a very robust and scalable architecture. The DMS 10 has always been a platform that is highly upgradeable to the latest technology. The most recent being support for voice over internet protocol (VoIP)
DMS 10 Versatility
The DMS 10's versatility is one reason for its longevity. Configurable as:
End Office—a switching center where subscriber loops are terminated and interswitch trunks and local lines are interconnected for extended area and toll calls
Access Tandem—a major switching center linking together end offices, particularly where it is not economical to provide direct connection into or between all end offices
Signaling Relay Point (SRP)—provides A-link consolidation to reduce the cost of CCS7 deployment to rural networks
Service Switching Point (SSP)—provides CCS7 trunk signaling or data base queries for call routing
Signaling Transfer Point (STP)—provides message routing and link management to support interswitch call control and service access
Service Control Point (SCP)—provides intelligent network functionality for service providers
Cluster Configuration—in multi-switch configurations, one DMS-10 is designated as the Host Switching Office (HSO) or Large Cluster Controller (LCC) and the supports up to 16 other offices as Satellite Switching Offices (SSOs), enabling consolidation of major billing, administration and maintenance functions
Standard Configuration—has a capacity of up to 20,000 lines
Source: Nortel Products DMS-10 Carrier Class Switching System Configurations
The DMS 10 provides customers with a platform capable of meeting many needs within their telephone network.