GROL
The General Radio-telephone Operator License (GROL) is a commercial radio license issued by the FCC allowing the holder to: operate, maintain, or repair any FCC licensed radio transmitter in the aviation, maritime, and international fixed public radio services.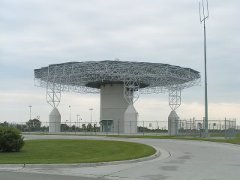 The holder of a GROL is authorized to operate, maintain, or repair equipment such as this VHF omnidirectional radio range station.
A GROL is required to operate the radio station aboard any ship required by the FCC to have a radio station and the radio station operates in excess of 1,500 watts PEP. A GROL is also required to operate aeronautical (including aircraft), or marine radios transmitting with more than 1,000 watts PEP even if the FCC did not require the vessel to have a radio station.
A GROL conveys all authority of the marine radio operating permit (MROP) thereby granting the GROL holder authority to operate, maintain and conduct official compliance inspections of radio equipment aboard commercial vessels operating in the Great Lakes, connecting waters and the St. Lawrence that carry 6 or more passengers for hire, or are 65 feet in lenth or larger.
The present GROL exam covers two parts which can be taken individually or together. Passing Element 1 will earn you an MROP regardless of what you do on Element 3. However, you must pass Elements 1 and 3 within 12 months of each other in order to earn a GROL. Once you pass either of the elements, you have 12 months to pass the other. Otherwise, you lose credit for the element you passed.
GROL/MROP Element 1
Radio rules & regulations
Communications procedures
Equipment operations
Antennas, power and other radio equipment
GROL Element 3
Electrical principles
Passive and active electronic circuit analysis
Transmitters and Receivers
Antennas and feed lines
Radio wave propagation
Aircraft Radio Equipment
Installation, Maintenance & Repair
Communications Technology
Marine Radio
Radar
Satellite Communications
Safety
For more information on the GROL and other commercial licenses, visit the FCC page here.