GMDSS Maintainer
A Global Maritime Distress and Safety System (GMDSS) Maintainers license is a commercial license issued by the FCC that conveys all authority of the MROP and GROL.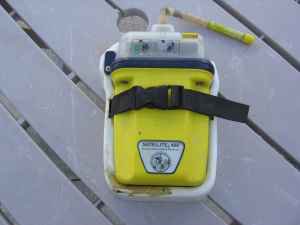 A 406 MHz, Class II (Manually Activated) Emergency Position Indicating Radio Beacon (EPIRB) with a broken antenna. Only the holder of a valid GMDSS Maintainers license is authorized to repair this device.
The holder of a GMDSS Maintainer's license is authorized to perform shore based repair of GMDSS equipment and is the only individual authorized to perform at sea repair and maintenance of GMDSS equipment.
GMDSS Maintainer Exam
The GMDSS maintainer Exam is a three part exam. The first part, Element 1 is common to several other FCC issued licenses and covers basic radio law and operating practices. The second part, Element 3 is common to the GROL.
GMDSS Maintainer Element 9
Element 9 is the third part of the exam and contains questions from what the FCC identifies as 100 key areas, some of which are:
Radio System Theory
Amplifiers, Power Supplies, and Troubleshooting
Digital Theory
GMDSS Equipment & Regulations
Radio maintenance guidelines for the GMDSS related to sea areas A3 and A4.
For more information on the GMDSS Operator license, visit the FCC page here.