Direct Mail Marketing
Direct mail marketing traditionally has a very low response rate -- on the order of one to two percent. The response rate is so low that to be cost effective, mass (bulk) mailings in the thousands of pieces mailed multiple times are typically required.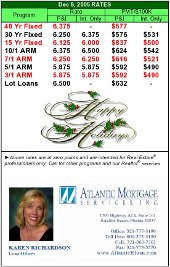 6" x 4" post card generated by template created using Microsoft excel. (click to enlarge)
The traditional brick and mortar mortgage business depends heavily on personal referrals from Realtors, builders, friends and family. Therefore, newsletters, updates and holiday cards are important means for a loan officer to stay in touch and maintain presence of mind with potential referral sources.
The challenge was how to cost effectively establish and maintain a direct mail marketing campaign designed to maintain presence of mind?
When investigating bulk rate mail, two problems became quickly apparent; delivery was slow and the lowest rates required drop off at the Orlando International Airport mail terminal 55 miles away. Presorted bulk mail dropped off at the local post office was no different in price from first class mail once the overhead of sorting and delivery to the post office was factored in.
That bulk mail of any type would take up to two weeks for delivery ruled it out for any manner of time sensitive mailing.
Post Cards versus Sealed Envelopes
Post cards generally have a better response rate than sealed envelopes because with a post card, it's hard for the recipient to not see what you are trying to communicate before tossing the card into the trash whereas with a sealed envelope, the entire envelope and letter may be thrown into the trash unopened.
Because cards were less expensive, monthly card mailings and a quarterly newsletter proved to be a good mix.
At the time, color laser printers were too expensive to be cost effective so, for color in-house mailings, inkjet printers would have to be used.
One problem with inkjets is ink cost. To keep these costs down, I calculated how many cards could be printed from a full set of cartridges and selected half that number as the cartridge refill mark. Since HP cartridge print heads were cooled and lubricated by the ink, never permitting the ink to run low would in theory maximize cartridge life. Refilling the cartridges was not a big deal, I ordered bulk ink from a guy in Virginia. The first order included syringes but for subsequent orders, I just purchased ink in one pint bottles. By never letting the cartridge level fall much below half full, cartridges lasted as much as 20 fills before needing to be replaced.
Avoiding cartridge replacement costs really drove print costs down but the labor of refilling the cartridges remained constant. To reduce this refill labor cost, I switched to an epson printer which had a large ink reservoir which the ink was siphoned from. Fill intervals were drastically reduced and a full refill took no more than 5 minutes. Print heads never needed to be replaced during the entire time the printer was being used for mailings. Total cost to create and mail a first class postcard was about 30 cents.