Web Store
After creating a site for B. Robinson Corporation, a professional engineering firm in Florida, Georgia and Illinois, I was requested to add an e-commerce capability in order to facilitate material and supply orders from governmental agencies.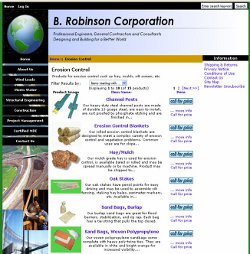 Screenshot of erosion control products section of B. Robinson Corporation webstore. (click to enlarge).
Essentially, when a governmental agency needs to order supplies, in many if not most cases, they have to do so from approved vendors. B. Robinson Corporation is an approved vendor to the State of Florida for a wide variety of engineering and construction related materials.
So, I set about determining how best to add e-commerce capability into the website. I finally settled on Zen Cart which is a popular open source PHP based e-commerce application.
Zen Cart came with a skin which looked good but obviously was different from the look and feel of the host site. So, I set about changing the skin and layout to match the look and feel of B. Robinson Corporation's website. This was no small effort.
Ultimately, I had to make a few changes to B. Robinson Corporation'' website and a lot of changes to Zen Cart but was able to merge the two reasonably seamlessly.
Most of the work was HTML, CSS and graphics with some modest XML, MySQL and PHP changes.
What we soon discovered was that populating and managing the e-shelves can be labor intensive and may require as much if not more effort than populating shelves in a brick and mortar store.
Without direct access to supplier databases, you have no idea when a supplier may have changed price, switched or discontinued products. If you don't keep on top of things, you risk receiving an order and making a sale only to discover you have no product.
In the case of B. Robinson Corporation, orders received were never enough to justify the overhead of scrambling to check suppliers, none of which would even email us a comma delimited file of their product database. The e-commerce section was deactivated although, it still exists and can be reactivated on short notice.