Structural Testing
I had an interesting opportunity to assist a PhD Candidate and a PhD performing structural testing of advanced concrete mixtures in the structures laboratory at Florida State University and in the concrete laboratory at Florida A & M University.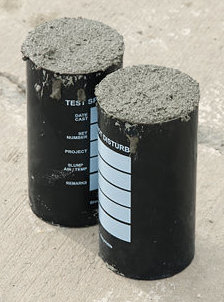 A pair of 6 inch x 18 inch concrete cylinders just prior to being capped and stored. Testing will begin after the concrete has cured for 28 days.
The research was directed towards identifying reinforcing materials and additive blends in concrete mixtures that would achieve improved strength characteristics.
For a material as ubiquitous in modern society as concrete, I was surprised to learn that much about the curing process of concrete is poorly understood. However, the curing process is within the realm of chemistry, physics and materials science. The task at hand was structural engineering.
Key to the research were hair thin polymer fibers and short, thin stainless steel wires formed into various shapes which served as reinforcing material. These reinforcing materials were used in isolation, or in combination with varying chemicals. The ultimate goal being a mixture that would yield improved compressive, shear, or tensile strength.
I helped measure the ingredients, mix individual batches of concrete, perform slump tests, pour cyclinders, rod the cylinders, seal the cylinders and store them. After 28 days of curing, I helped remove the concrete from the cylinders and perform strength tests.
Precision
Just because the materials were heavy and dirty didn't mean the work wasn't precise. I was suprised that ingredients which combined to weight upwards of a thousand pounds per test batch were measured to the ounce. Water too was measured to the ounce and noted as to being municipal or distilled.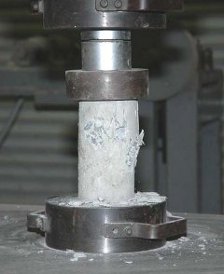 A concrete test cylinder undergoing compression test. The cylinder is at the failure point.
Concrete has a narrow temperature range in which it cures and the temperature had to be noted and controlled. Shock and vibration during curing are bad things so, the cylinders had to be stored in a location where they wouldn't be disturbed.
Some cylinders were cured at different temperatures. Some cylinders were allowed to remain in their plastic container the full 28 days while others were removed after about 10 days and placed in a tank of water to finish curing.
As a test engineer whose experience is primarily in communication systems, gaining a little exposure to test processes in the structural engineering field was a really good experience.
Assisting in this contribution to the body of human knowledge is something I can always feel good about.