Ford 4000 tractor rebuild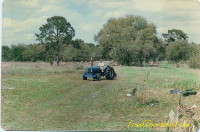 Frank Overstreet's younger brother on the Ford Dexter discing a garden plot.
Click image to enlarge.
When growing up, we had a hobby farm outside of town and used an old Ford Dexter diesel grove trator for mowing, cultivating, clearing, etc. A picture of my younger brother on the Ford Dexter is to the right. A disc harrow is on the tractor which means he was probably discing a spring garden plot just out of view to the left of the photo.
One day, my dad came across a deal on a Ford 4000 diesel farm tractor and a few implements. Upon purchasing the tractor shown below, my younger brother and I set about rebuilding it inside the garage of our house.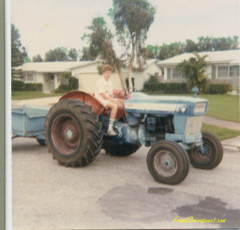 Frank Overstreet's younger brother sitting on the Ford 4000 just after our dad bought it.
Click image to enlarge.



The battery was weak, the brakes were bad, fuel filter clogged and the electrical wiring had issues. A shift lever was broken but useable. The engine, transmission and hydraulics were good but the belts and hoses were showing some wear. We replaced the fuel filter, battery, belts, hoses and shift lever. I fixed the wiring and that left the brakes.
To replace the brakes we had to remove the rear wheels. To remove the rear wheels, the tractor had to be supported.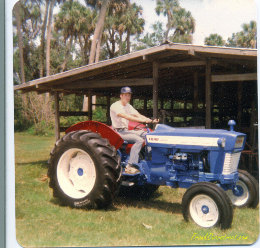 Frank Overstreet showing off the freshly rebuilt Ford 4000 next to the stables on the family hobby farm.
Click image to enlarge.
We used bottle jacks to lift the rear axle and built a support of railroad ties. The brake shoes were all that needed replacing and once we got the rear wheels back on, we were able to begin paint prep.
There was some heavy rust damage on the rear fender. I cut a square hole out, took a piece of sheet metal, welded it in and ground the welds flush. Sandblasting would have been nice but instead, we degreased everything by hand and then set about hand sanding it.
Once we got all the old paint sanded down, we painted it. Rather than using the color ford blue, we went with osha blue because the price was right.
Unfortunately, no photo's survive of the implements we rebuilt. The tractor rebuild was a good project. The tractor served reliably for many years and was ultimately sold for a profit.